To those who responded here (or emailed) overwhelmingly "yay" to the idea of making a short suit, your support has made this post possible (or at least internet-justified -- which I swear is a thing). The vote, as a matter of fact, was unanimously in favour of this adorable knee-baring look.  As you may recall, I was leaning heavily towards the classic Eton suit, but worried that this would come across as too much of a costume.
There's a little of that, to be sure, but I think certain changes I made to the overall look helped to mitigate the preciousness.  I looked at so many images of suits, but this is the one I came back to again and again:
Primarily, I was attracted to the colour.  I loved how this image evoked the sepia photography of the early 20th century. (Deliberate, light neutrals like this evoke a sense of formality too -- when you only have one or two suits of clothes, you tend not to choose the craziest brights.)
I imagined that this would go so beautifully with the ice cream pastels that make me think of spring and of Easter.
I also liked the pintucked crease down the front of the shorts.  In the most recent iteration of Celebrate the Boy, Rae made a pair of happy, bright saffron-yellow pants with pintuck down the front and I knew I wanted to make a pair of pants with that detail.
I wasn't crazy about the collarless jacket, though.  I think blazers with collars are more versatile.  And though it's not the look shown above, I did think that completing the outfit with a peter pan collar was a little too small-town theatre production of Our Town.  (I also knew that, given time restrictions and the fact that I've recently made two button-downs, I was probably going to go with a store-bought shirt.)
I got the nicest linen/cotton blend on sale and I think it gives this suit the perfect summery/schlumpiness.  This would be the outfit to try out on a boardwalk.  (But not here where it is snowing again today (!!!))
What's going on in there?  Let's have a look at this thing up close.
This is, once again, is the fabulous Basic Blazer from Melissa at Melly Sews. I cannot say enough good things about this pattern. Wanting to make my little boy a blazer was one of the reasons I got into sewing in a serious way and I remember seeing a very early iteration of this pattern more than a year ago and being very excited.  I didn't think that I could make something like that, but I was so happy to see something outside of the pyjama bottoms and knit wear that the major pattern companies were offering as boys' options.  If you love this look, I highly recommend giving this pattern and all of the Blank Slate Patterns a try.  The instructions are very clear, engagingly written, and accompanied by lots of detailed photographs.  (Just to be clear:  I haven't been asked to review Melissa's patterns, I just really like them.)
Six dollars a metre, guys!  Look at that lovely texture.
I went a little crazy adding pockets to the jacket.  I think this small breast pocket comes across very nicely, but I am less crazy about the too-high placement of the one on the inside.
That welt pocket is right on the edge!  BUT, I did not go boring for the lining this time around.  I love this Castle Peeps fabric by Lizzy House.  It's been discontinued, but that might mean that you can find it - as I did - on deep discount.  (Why didn't I buy more when I had the chance?)
I tried out a tip from Skirt as Top (whose "girlfriend version" of the blazer is highly adorable in white corduroy) and followed the bag-lining instructions from Grainline so that I could try sewing the sleeves by machine.  I - honestly! - held my breath as I was pulling the jacket right-side-out because I was sure it wasn't going to work, but it did work and I love how the sleeves look.
The shorts are made from the Number 9 Trousers pattern from Shwin Designs.  I used this pattern to make the retro bowling outfit pants too.  Here, I modified the original a bit as I cut off the pattern at the knee, added a little panel at the side for some additional ease (the earliest version of the size I had made for slightly snug pants, but this has been corrected), dropped the welt pockets from the back, added the pintucks, and cuffed the bottom of the shorts.  Quite a lot of modification, actually!
I do love them.  The rise in the back is such a perfect fit on my kid and I adore the dart detail.  (They show a little stretched out here because I only had an adult hanger to photograph them from.)
I'm so glad I added cuffs.  I've never really understood how they worked before, and I think they add interest to the bottom half of the suit.
I hand-hemmed these on the inside.  It didn't take very long and it meant that there was no risk of the pintucks or any of the seams not matching up perfectly.
Because this was a special suit (and also, I admit, because I just like this sort of thing), I finished all of the inside seams with a combination of french seams (construction seams), hand-sewing (hem), and bias binding (waist).
I love that these shorts are so pretty on the inside!  And check out the markings indicating that this is indeed the "wrong side" -- I always do this to save myself trouble when I'm sewing with fabrics that don't have a clear right side. The orientation tells me which way is up (so handy on shorts!) and I don't wind up with two right legs.
The only thing I had real trouble with on this project was the bow tie.  I looked at the instructions on Delia Creates to create the Lil' Mister bow tie and then. . . I walked away or something. (And speaking of Delia, the suits she made for her boys were a major inspiration for attempting this suit for Ralphie.)
The shape of my tie was too narrow and not nearly long enough to tie. (I kept having to go back and add sections of elastic).  Unfortunately, because I did buy a commercial shirt (both the shirt and shorts are from Old Navy), the neck measurement I had expected by measuring the neck of my kid was not the same as the one I got from measuring the neck of the shirt.  We managed to get through, but it was so difficult to tie.  Ralphie just gave up his afternoon nap last week and I expected some tired rebellion as I fussed with the bow tie.
To my surprise, his exhaustion took the form of sitting, very passively, as I fiddled and fiddled and fiddled again.  He was still so tired for the photos!  I leave you with this:  proof that this little guy worked so hard that he fell asleep on his feet while modelling.
Updated to add: Though I had planned to do no such thing, in a fit of optimism, I decided to enter this outfit in Nap Time Crafters Sew Off Auditions.  I highly encourage you to go check out the blog itself.  (For example, there's a DIY kids' kitchen that I am filled with envy looking at.  It has running water!)  And, of course, the audition links are full of terrific and inspiring sewing.
And because I'm on time this week to share this, I'm also linking up to the Train to Crazy.  It's another really great place to go to see what other people are sewing up!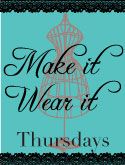 Girl Inspired, which is always inspiring -- I feel like I'm at a very tasteful Edwardian tea party whenever I visit -- is also linking up this week.  Because I think Ralph would fit right in at that tea party, I'm linking there too.